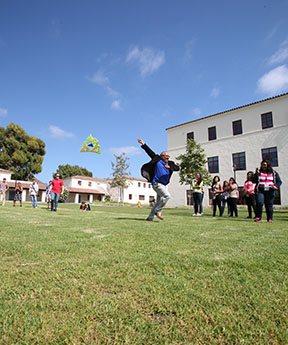 Despite his long list of academic achievements, Director of the Master of Science (MS) Mathematics program Jorge Garcia, PhD, believes it's more helpful to students if he talks about the leaner times growing up as one of 20 children in Mexico City.
"I share my struggles rather than my achievements," he explained. "For example, I used to sleep in a house next to the cemetery, and there was this big huge rat in the house. I finally moved out because a got a scholarship and was able to pay to live in my own place."
Garcia has 12 half-siblings, but grew up as a middle child among eight children his father had with his mother.
"She was the one who really raised us. She washed clothes for a living," Garcia said. "My mom finished first grade, but got in her mind that education was a priority. We grew up hearing 'What are you going to do in college?'"
The message took. All but one of the siblings who grew up with him earned a college degree—and in Garcia's case, an advanced degree. He shares his journey through higher education in hopes of inspiring the students he teaches at CSU Channel Islands (CSUCI) Extended University.
Garcia was one of the first faculty to join CSU Channel Islands in 2003 and became the Director of the MS Mathematics program at CSUCI Extended University (EU) two years ago. Garcia chose to teach at EU because of the variety of students who attend—many of them international students.
"EU draws students from different parts of the world, and we have international advisors," Garcia said. "When you're from another country—any country—you share the same frustrations, the same goals and you feel like you understand each other. I have friends from Turkey, Italy, China, all over."
Garcia realized he had an aptitude for math when he was in the fifth grade and would challenge his teacher with the answer to a math problem that was different than the teacher's answer—and the teacher would concede that young Garcia was correct.
He studied hard in school and eventually earned a Bachelor and Master of Science (BS) and (MS) in mathematics at National University of Mexico (UNAM). He then earned a scholarship to attend the University of Wisconsin in Madison to pursue his doctorate in mathematics, flying from balmy, green Mexico City to snowy Wisconsin on a frigid January day.
Garcia had studied English by listening to tapes on his Walkman while still in Mexico City, but learning English as a second language was still a struggle. He persisted, and graduated with a PhD, having completed a dissertation called "Stochastic Integrals and Large Deviations," which is essentially a method by which math can be used a kind of intelligent crystal ball to predict probabilities and events on a large scale.
Students who graduate from EU with an MS in Mathematics have a bright future working in a number of fields, especially those requiring skill with so-called "big data," which describes large sets of data that need to be analyzed to detect patterns. 
When he's not teaching, Garcia is often in the kitchen, cooking up one of his specialties such as green enchiladas or a Yucatan-style barbecued pork dish called cochinita pibil. He can also finish the meal with a secret recipe for baklava entrusted to him by a friend in Turkey.
Or, he could be cheering on the USA or Mexico in soccer.
"It's a universal language. All you have to say is 'Maradona!'" he said, referring to a move to escape an attacker developed by famed Argentine soccer player Diego Maradona.
Above all, Garcia believes in bringing a touch of humanity to his courses by helping each student express his or her individuality, especially if they are coming from another country.
"I work with each student and find out what their individual need are and I follow up with them," he said. "I meet with students, I tell them they can feel safe and speak up, and that they are welcome."
For more information on the MS in Mathematics program and other Extended University programs,
please visit: MS Mathematics.