Katianne Brent's experience in the Psychology program
By Zoe Lance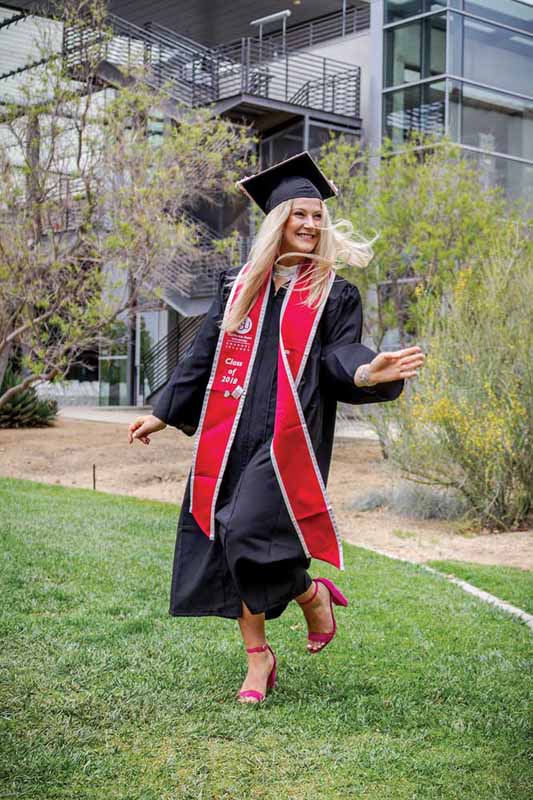 Katianne Brent lovingly calls herself a science nerd.
She's always been fascinated with behavioral neuroscience, a field that focuses on the biology of behavior. She also enjoys the research side of psychology, going so far as to get a tattoo with an oft-used number in statistical hypothesis testing. And she thrives on the rigor of being an aspiring medical professional, applying what she's learned in the classroom wherever she goes.
"I've always been innately curious about everything," she said. "The more and more I've learned about science and the psychological disorders that afflict people, the more I've realized I can help with an understanding of both biology and psychology."
This curiosity has led Brent to CSUCI's Psychology program at the Goleta campus, where she'll graduate with a psychology degree this summer. Brent plans to pursue graduate work in medicine or neuroscience.
"Being at CSUCI has really been such a positive experience," she said. "The professors know your name and are definitely invested in your success. I really appreciate the community that I've found and the support I've gotten the whole time."
Brent came to CSUCI by way of Northern Idaho. Before moving to Southern California, she had spent summers in Los Angeles with an aunt. As Brent was getting ready to study biology at the University of Hawaii, her aunt encouraged her to consider Santa Barbara City College (SBCC) and transfer to a local university. It seemed cosmic — a book series she had read as a kid growing up near the Canadian border was based on the beach town.
Through SBCC, Brent found CSUCI's Goleta program. She's taken classes in theory and data analysis, getting a holistic view of the psychology field. Being able to interact one-on-one with her professors and learn from their careers has given her an appreciation for the discipline.
"I knew that what I needed was a hands-on experience where I could have my questions answered — and I have a lot of questions," she said. "You find a respect for the profession, major and science, as a whole. The cohort system has also been really beneficial for me. Having that sense of community has been really positive."
Brent's daily schedule is packed, between working and being a student. By day, she's a psychology tutor at SBCC and a behavior therapist for children with autism. By night, she works as a server at a local restaurant. Having opportunities to work with different kinds of people helps keep her critical thinking and observational skills sharp.
"It's like watching a psychology textbook being played out loud," she said. "People always say, 'Do what you love and it won't feel like work.' It's so silly, but it's really true. It's incredible to be excited about doing this as a future profession." 
Return to the Table of Contents
© Spring 2018 / Volume 22 /Number 01 / Bi-annual