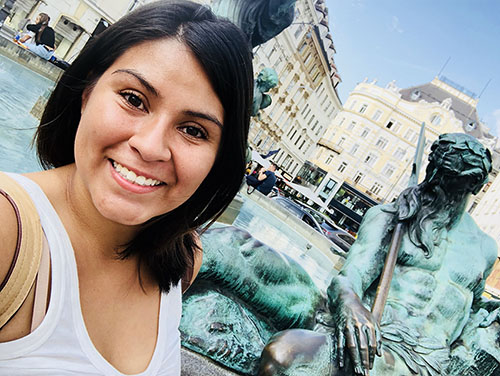 Nely Martinez Montiel knew that studying abroad would be an experience of a lifetime, so when it came time to apply, she seized the opportunity. During fall 2018, Nely studied business at Zeppelin University – a small, highly selective research university located on the banks of Lake Constance in Friedrichshafen, Germany.
Despite not knowing a single word of German prior to acceptance, Nely thrived. She made the most of her semester in Germany, traveling to over 13 different countries on a $2,500 budget (and she has the spreadsheet to prove it). Each weekend, she would leave Zeppelin bound for a new destination. Nely would sleep on the bus at night, and wake up in the morning in Prague, Paris, or Milan. One of her most memorable moments was visiting a church in the Vatican and seeing the Pope only 10 feet away from her.
In addition to checking destinations off her bucket list, Nely connected with students from across the globe. At a local international night at Zeppelin, students brought food to represent their home country. Nely brought flautas. The students sat around sharing stories and perspectives from their home country. "We were like a family abroad," Nely said. Even though she is now back in California, she continues to keep in contact with the friends she made that semester.
Nely's advice to anyone considering study abroad is to research and "be willing to explore outside of your comfort zone." Venturing outside of her comfort zone overseas allowed her to embrace a new confidence back in the United States. "I want to share who I am. I'm willing to speak up and share my story," she said.
CSU Channel Islands offers study abroad opportunities in 19 countries on almost every continent on the globe. To embark on your journey abroad, visit: go.csuci.edu/study-abroad or email international@csuci.edu.