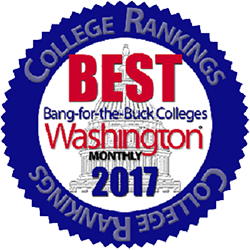 CI offers affordable degrees. Washington Monthly ranked CI highly in College and University category "Best Bang for the Buck" in 2014, 2015, 2016, and again in 2017.
Estimated Program Cost*

Total Units Required: 32
Cost Per Unit: $525
Estimated Total Cost: $16,800

*Textbooks are not included in fees. Extended University makes every effort to keep student costs to a minimum. Fees listed in published schedules may be increased periodically. Any increase in fees will be published upon approval and students will be notified by the Financial Aid Office.
Financial Aid in the form of loans and scholarships may be available for eligible students.
Veterans Affairs Program assists prospective and enrolled student veterans and dependents.