The Master of Science in Nursing (MSN) at California State University Channel Islands is designed to prepare advanced practice nurses to provide primary and acute care services to diverse populations across the healthcare continuum and Nurse Educators to educate students in an academic and/or clinical setting.
The program is designed based on the Essentials of Master's Education in Nursing Standards (2011) and prepares the student for continued study at the Doctoral level. The Family Nurse Practitioner curriculum incorporates the National Organization of Nurse Practitioner Faculty FNP Core Competencies so that students are prepared for national certification through either the American Association of Nurse Practitioners or the American Nurses Credentialing Center. The Nurse Educator curriculum incorporates the National League for Nursing Nurse Educator Competencies so that graduates are prepared to take the Certified Nurse Educator exam after graduation.
2 tracks: Nurse Educator and Family Nurse Practitioner.

Up-to-the-minute theory and real world applications.

World class faculty who are all experience Nurse Educators.
---
Program Highlights
Core courses completed by all students, which prepare students to practice nursing at an advanced level with a focus on:
The theoretical foundations of nursing
Evidence-based practice
Policy development
Advocacy, informatics, and advanced nursing roles.
All graduate students will also complete coursework in advanced pathophysiology, advanced pharmacology, and advanced health assessment.
Nurse Educator Track: Students complete specialty courses that prepare the graduate to assume a nurse eduator position either in an academic or clinical setting.
Family Nurse Practitioner Track: Students take specialty courses that prepare the graduate to provide primary care services to individuals across the life span.
Information Sessions for the MSN and Post Master's Certificate programs at CSU Channel Islands are currently being held via Zoom.
Upcoming Information Sessions
Date

Location

Time

July 20, 2022 (Wednesday)

3-4 PM

August 23, 2022 (Tuesday)

10-11 AM

September 22, 2022 (Thursday)

11AM-12PM

Registration is not required for virtual Info Sessions.
Please click the "Zoom" link above to attend.
Post-Master's Certificates
Nurse Educator: Students enrolled in this program will complete coursework in curriculum development and evaluation; teaching and learning strategies including the use of technology in a learning environment.
Family Nurse Practitioner: Students enrolled in this program will complete FNP specialty coursework aimed at preparing the graduate to provide primary care health services to diverse populations.
Advantages
Practical, Skills-Based Education: Receive education in up-to-the-minute theory and real world applications. Faculty members are highly experienced Nurse Educators. 
Student Convenience: Course are offered online in 16-week sessions with the exception of practica courses. All classes are offered online with the exception of the practica courses.
Career Focused: Develop the skills you need to further develop your career in nursing.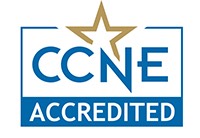 The Master's program and Post-Master's Family Nurse Practitioner certification degree programs at CSU Channel Islands are accredited by the CCNE: 
Commission on Collegiate Nursing Education
655 K Street NW, Suite 750
Washington, DC 20001
202-887-6791