CSU Channel Islands online BS Business Administration degree-completion program combines the highest level of academic rigor with real-world experience. The program develops future business leaders with the knowledge and skills needed to compete and succeed in an increasingly multicultural and global business environment.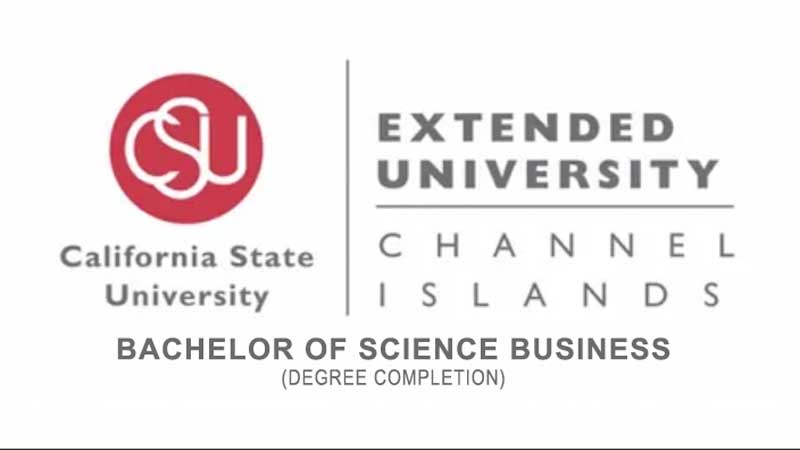 This Program is Ideal For:
This accelerated program is perfect for transfer students who are seeking a Bachelor of Science in Business degree and who are planning to start or grow a career in management.

Program Highlights
Asynchronous Program Structure: This degree-completion program is taught in a 100% online environment, allowing students to complete the program while still meeting other obligations and priorities.
Accelerated Degree Completion Program:  Transfer students can complete their Bachelor of Science degree in 16-18 months.
Cohort Model: Our students start and continue together following a predetermined graduation roadmap that allows them to graduate on a timely basis.
Focus on industry relevant content: Key elements include:
Interdisciplinary focus includes fundamental principles of accounting, economics, finance, information systems, management, and marketing as applied in a variety of organizational settings.
Liberal arts and interdisciplinary focus built on critical thinking, collaboration and communication 

Advantages
Practical, Skills-Based Education
Receive education in up-to-the-minute theory and real world applications.
Faculty members are a blend of academics with industry acumen and business leaders with extensive training and online teaching experience.
Online program with a full brick & mortar university supporting services, including: advising, business clubs, paid micro-internship program, library, Writing & Multiliteracy Center, tutoring, and other basic needs. 
Student Convenience
Perfect for busy schedules: All courses are taught online (100% asynchronous).
Affordability
Financial aid is available.
Career Focused
Learn the skills and cutting edge science you need to enjoy a rewarding career in this important and fast-growing field.
Program Details
Number of courses: 17 (may vary)

11 Upper Division Business Courses

3 Upper Division General Education (UDGE) Courses

4 Elective courses

Program Length: 16-18 months
Location: All courses are 100% asynchronous (online, on your schedule)

Application Checklist  

(

PDF

, 71.6 KB)
There's a lot more to know!  See the right sidebar for options.