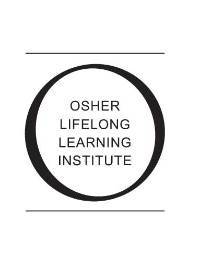 OLLI at CSUCI brings the excitement and stimulation of college learning to area adults (50 or better!) who wish to extend their learning experiences in a university atmosphere.
OLLI members take university-level courses without the distraction of grading, preparing for a career, or meeting degree requirements.  OLLI is learning for the joy of learning!

Fall TASTE of OLLI
Week of October 15 - TASTE of OLLI catalog emailed and posted to website
October 22 - New member, online, and walk-in enrollment. Walk-in enrollment available at Sage 2109 (*new option*).
October 23 - Phone and fax enrollment.
November 14 - TASTE of OLLI classes begin.
---
OLLI Activities and Events
October 4 - 15 - Dolphin Pantry Drive and Military Care Package Drive
October 15 and 17 - Volunteer for CSUCI Voter Registration drive. Sign up here.
November 3 - Volunteer at CSUCI Science Carnival. Sign up to help with logistics here. Sign up to help run an activity here. 
November 8 - Nethercutt Collection (PDF, 364KB)
November 16 - Military Packages and Letters Event. RSVP link not yet available.
November 30 - Ventura County Food Share
March 10 - 24, 2019 - International Trip to Japan
May 19, 2019 - El Gato Montes at L.A. Opera
---
Request More Info about OLLI
---
OLLI in the News
---
Follow Us on Facebook