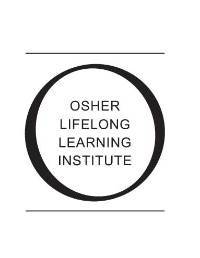 Important Message 
March 26, 2020
Dear OLLI Member,
We at OLLI hope you are well and managing to find productive things to fill your "stay at home" time.  As you can imagine, the University has been striving to venture forward within these new challenges. 
We have heard from many OLLI members, and we share your desire to restart the OLLI program.  We have been working internally to plan and organize a virtual program using the online Zoom capability.
Our plan is to provide one online class per day starting the week of April 6 – all for free.  Unfortunately, we won't be able to present all thirty courses that were scheduled for Spring II.  We know you will miss some of your favorite instructors, but together we need to learn to walk before we try to run. 
We will provide the schedule of classes in a few days after we confirm with instructors.  You do not need to register for classes.  The class schedule we send out will have a link which you will click a few minutes before the class starts in order to enter the class. 
Basic Zoom tutorials:
https://support.zoom.us/hc/en-us/articles/201362033-Getting-Started-on-Windows-and-Mac
https://support.zoom.us/hc/en-us/articles/206618765-Zoom-Video-Tutorials?_ga=2.48506214.1567743104.1585241522-369241581.1527211342
Please check your email for updates and links to our zoom training and Spring II classes
OLLI at CSUCI brings the excitement and stimulation of college learning to area adults (50 or better!) who wish to extend their learning experiences in a university atmosphere.
OLLI members take university-level courses without the distraction of grading, preparing for a career, or meeting degree requirements. OLLI is learning for the joy of learning!

Watch Welcome to OLLI from CSU Channel Islands President Erika D. Beck!
Spring II 2020
OLLI Catalog Spring 2020 II

 

(Coming Soon)
OLLI Spring 2020 II Enrollment Form

 

(Coming Soon)
Spring I 2020 (Done)
OLLI Activities and Events
---
Request More Info about OLLI
---
The Organizational Guidelines for OLLI at CSUCI
---
OLLI in the News
---
Follow Us on Facebook